Pool is Open!
May 25, 2017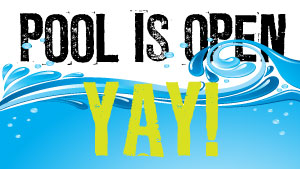 Hi Residents,
The pool is now open for the season! The pool hours are as listed:
10:00 AM – 10:00 PM
7 days a week
Fox Glen's Annual Pool Party
May 16, 2017
Ahoy Matey!
Please join us for Fox Glen's annual pool party! The theme this year is Pirates and Mermaids!
When:
Saturday, June 10, 2017
11:00 AM – 3:00 PM
Flower Giveaway
May 13, 2017
It's that time of year again!
Flower Giveaway
Fox Glen will be giving away FREE flowers. This includes 1 flat of flowers per apartment.
If you would like to participate, sign-up in the office now through May 22nd.
Flowers will be ready for pick-up May 24th.
Golf Membership
May 12, 2017
As a resident of Fox Glen Apartments, you get a free golf membership to two local golf courses!
Sign-Up
Simply stop by the office to sign-up for your exclusive golf membership card. You will need to provide your phone number, apartment number and show your driver's license.
For more details, stop by the office or call us at (989) 792-2051.
Decorating Your Outdoor Space
May 11, 2017
The colder weather is behind us (or so we hope!), as we head into mid-May! If you haven't started already, you can decorate your outdoor space now. While your balcony or patio may not be as big as a backyard, our balconies here are spacious. In other words, you have a good amount of outdoor space without the hassle and work of lawn care! Here are some ideas to turn your balcony or patio into your own oasis.
Furniture
Adirondack chairs are weather resistant and come in a variety of different colors from bright orange to turquoise. Choosing your favorite color allows you to personalize your space. A small bench with outdoor cushions is another great option. You can read a book and watch the sunset. If you're a morning person, a small table and two chairs might be a better idea. You could enjoy that morning cup of coffee outdoors while listening to the birds sing.
Lights
You can hang up a string of lights or drape them along the railing of the balcony. You can also add some solar lights to your area, which are energy efficient. If you enjoy natural light, a citronella candle is a good option!
Flowers
Hanging flower baskets bring instant color to your area without any work. If you enjoy gardening, you can fill up your own pots! Stop into the office by May 22, 2017 to sign up for the flower giveaway. You get a full flat of flowers, just let us know if you get more sun or more shade on your balcony or patio!
Grills
Grilling is a great way to cook your meals in the summer while enjoying your outdoor space. Residents may use an electric grill or a grill with a one pound propane tank. Charcoal grills and propane tanks over one pound are prohibited.
Enjoy decorating and relaxing in your outdoor space!
4 Cozy Candle Scents Perfect for Your Apartment in the Winter
March 3, 2017
Winter is finally here! What better way to spruce up your apartment for the chilly season than to fill the air with cozy scents from your favorite candles? Continue reading
Community Activities
March 2, 2017
Do you have an idea for an activity you'd like to see here? Whether it's a game night or a walking group, let us know so we can help facilitate. We are always interested to hear your ideas about ways we can bring neighbors together for meaningful activities. We look forward to hearing from you.
Tips for New Residents at Fox Glen
March 1, 2017
Welcome! We are so glad to have you at our community. Let us know if you have any questions or if there are any ways we can serve you. Please remember to break down your moving boxes when you dispose of them so there's enough room for everyone's trash. Welcome to our community!